Gas Engines | Diesel Engines | Hybrid Engines
Save With Our Large Inventory of Used Engines
Are you in the market for a used engine to get your vehicle back up and running? Look no further than Airline Auto Parts. We offer a wide selection of high-quality, used engines at affordable prices. We pride ourselves on our commitment to customer satisfaction and provide a hassle-free shopping experience for all our clients.
Start by Selecting the Right Engine Type For You
Fill Out The Quote Form to Get Started
Learn More About Your Best Resource for Used Engines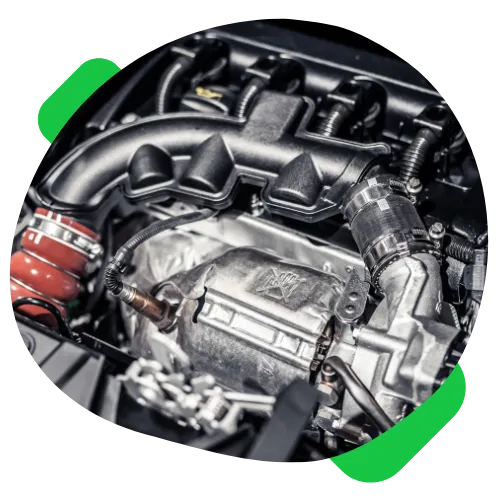 At Airline Auto Parts, we understand that finding the right engine for your car can be a daunting task. That's why our website is designed to make the process as easy as possible for you. With our advanced part search tool, you can easily narrow down your search based on your car's make, model, engine specifications, and more. Plus, our knowledgeable and friendly customer service team is always available to assist you in finding the perfect engine for your vehicle.
We offer a vast selection of used engines, including gasoline engines and diesel engines, from popular car manufacturers such as Ford, Chevrolet, Dodge, Toyota, Honda, and more.
All our engines are thoroughly inspected to ensure they meet our high standards of quality before they are offered for sale. We also offer warranties on all of our used engines, giving you peace of mind knowing that your investment is protected. One of the most significant advantages of purchasing a used engine from Airline Auto Parts is the savings.
Our prices are significantly lower than those of new engines, which means you can get your car back on the road without breaking the bank. Plus, with our huge selection of engines in stock, you're sure to find the right one for your car and your budget. In addition to used engines, Airline Auto Parts also offers a wide selection of other recycled auto parts, including transmissions, transfer cases and more. Our inventory is constantly changing, so be sure to check back often for new arrivals.
Select Used Engines Including Gas Engines, Diesel and More
Diesel engines are popular for their power, fuel efficiency, and durability, making them an ideal choice for heavy-duty vehicles. At Airline Auto Parts, we have a wide range of used diesel engines from trusted brands like Cummins, Duramax, and Powerstroke. Whether you need a diesel engine for your truck, or other heavy equipment, it's always worth checking with us.
Gasoline engines, on the other hand, are commonly used in light-duty vehicles such as cars, SUVs, and pickups. We have a large selection of used gasoline engines from popular car manufacturers like Ford, Chevrolet, and Honda. No matter what type of vehicle you drive, we have the affordable used engine you need to get it back on the road.
Overall, Airline Auto Parts is your ultimate destination for any used engines or additional parts. We offer a vast selection of high-quality engines at affordable prices, and our knowledgeable customer service team is always ready to assist you in finding the perfect engine for your vehicle. Shop with us today and experience the difference!
The Advantages for Small Auto Repair Shops
Having a large and steady inventory of used engines and parts is a game changer for small auto repair shops. You know how important it is to keep your customers happy and coming back. One of the best ways to do that is by providing them with affordable and reliable repairs, and that's where Airline Auto Parts comes in. Our selection of used engines and auto parts can help you save money on repairs, while still providing your customers with high-quality parts.
We also understand that time is money in the auto repair industry, which is why we offer fast and reliable shipping on most of our products. With shipping available locally, you can get the parts you need to complete your customer's repair quickly and efficiently. And with our warranties on most of our engines and parts, you can rest easy knowing that your customer's repair is protected. Shop with Airline Auto Parts today and see how we can help your auto shop succeed.
Frequently Asked Questions About Our
Used Engine Inventory
We strive to be the ultimate destination for recycled auto parts. With access to a vast inventory and exclusive parts network, we offer millions of quality parts. We specialize in used engines and transmissions with new stock weekly. Our commitment to quality means that you can trust that you're getting the best possible part for your vehicle.

30 Years In Business

Largest Inventory In Houston

Best Warranty Programs
We Stock All Foreign and Domestic Vehicles.