You've likely been at the gas station before and noticed special pumps that also dispense diesel fuel. The large majority of vehicles (especially small ones) run on gasoline, but larger autos require diesel to run. What is the difference between these two types of engines? Today, we want to explain a bit about how the engines themselves differ, the pros and cons of each, and how available they are as remanufactured parts.
What's The Difference Between A Gas And Diesel Engine?
Gas and diesel engines are more similar than many people think. Both use internal combustion to convert their respect fuels into energy that can power the vehicle. Both use a 4-stroke system that involves the following:
The Intake Stroke: The piston lowers from the top to the bottom of the chamber to create a low pressure within the cylinder
The Compression Stroke: The piston moves back up, compressing large volumes of oxygen-rich air to prepare for combustion. Either a spark of the compression itself causes combustion
The Power Stroke: The piston moves back down due to the force of the combustion pressures, transferring the power of combustion to the crankshaft
The Exhaust Stroke: The piston travels back up, pushing exhaust gasses out of the cylinder through a valve as it does so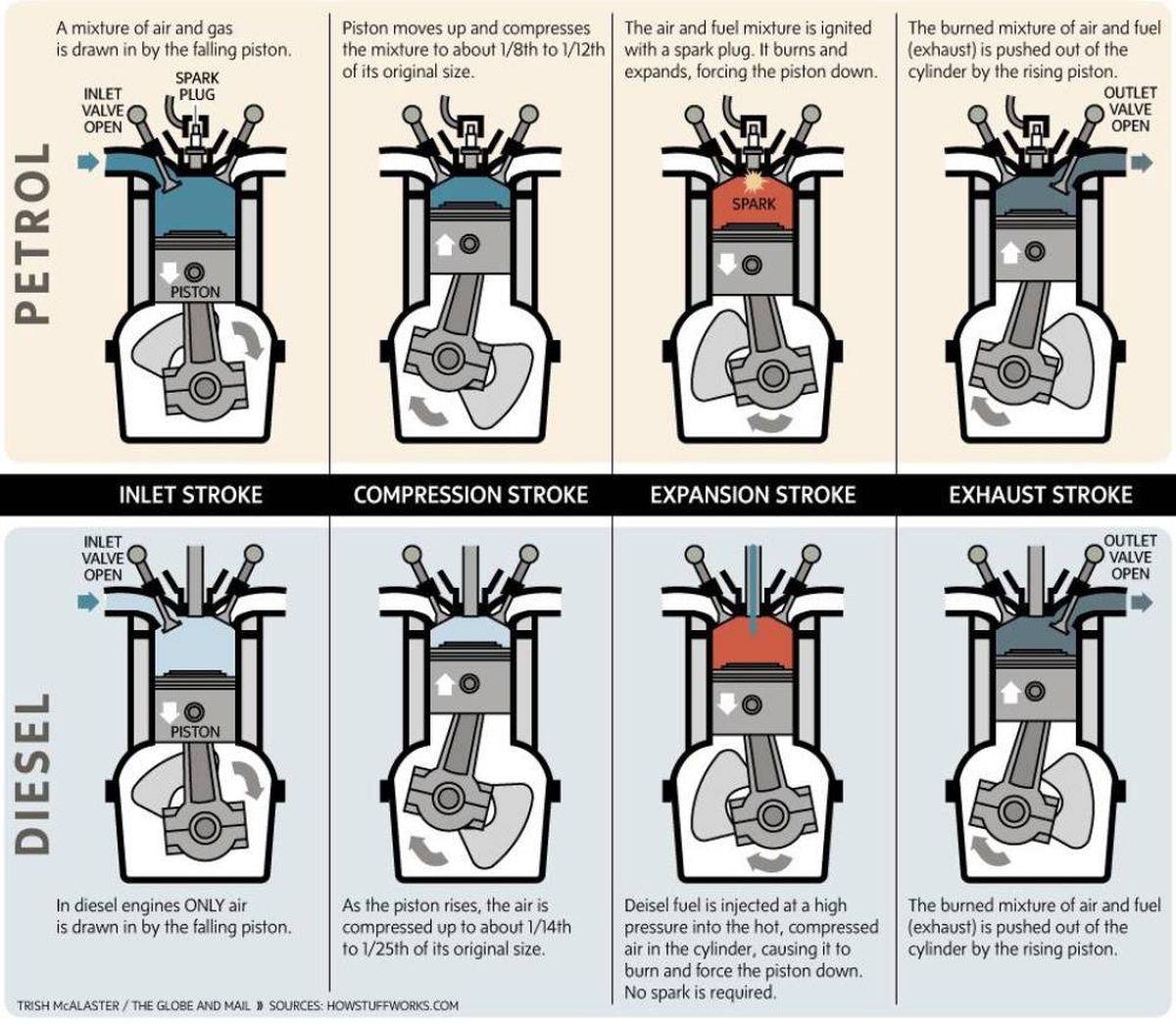 So what exactly is the difference? You'll notice that in The Compression Stroke it says either a spark or the compression itself will cause combustion. This is the main difference. Gas engines rely on a spark plug to produce a spark that will ignite the air/fuel mixture, whereas diesel engines make so much compressive force that the air/fuel mixture reaches the ignition point without a spark. In addition to this difference, there are other aspects of each engine that are unique as well. Gas engines require a throttle body to help accelerate the car to faster speeds. Diesel engines do not, and simply release more fuel and increase energy production within the usual engine system. This piece (or lack thereof) also affects how the cars can brake. When you lift your foot off the accelerator in a gas-powered vehicle, the throttle body will close, creating a vacuum that reduces output of energy. Diesel engines (without throttle bodies) release excess compressed air through one of the valves that is left unsealed when the accelerator is not being pressed on. If you look at a gas and diesel engine side by side, you'll notice that there are slight differences, but they largely work the same way. Thanks to the composition of the fuel itself, diesel engines can operate without the use of a spark plug to produce just as much power and energy.
There are pros and cons for both diesel and gas engines. Some people feel very strongly that one is better than the other, but we believe they each have their place in the auto industry. 
Gas Engine Pros

Cheaper fuel

Readily available

Most common type of engine

Quiet

Fewer emissions

Any auto shop will work on it

You can find them easily at salvage yards

Diesel Engine Pros

Lower revving

More fuel-efficient (due to the higher energy in each fuel molecule)

More torque at a lower RPM

You can go further on one tank

Many are turbo charged to make them faster 

Becoming more common so prices are dropping

The cylinder has a removable liner that lets the engine last much longer

Built tougher so they last forever

Gas Engine Cons

Engines show wear and tear around the 120-150k mile mark and there is no liner to replace

They burn through fuel more quickly because gas has 15x less energy than diesel

There are extra parts (ie the spark plug) that can break down

Diesel Engine Cons

Fuel is more expensive

Not all mechanics will work on diesel

While improving, diesel engines are known for excess pollution

Starting up tends to be loud, as does braking

Far fewer pumps at gas stations

Exhaust can smell pretty bad
Remanufactured Gas and Diesel Engines
You can find remanufactured gas and diesel engines at many salvage yards (like Airline Auto Parts!) or at shops around the country. A remanufactured engine is essentially a Frankenstein engine built from components of used engines that have been dismantled. Each and every component undergoes strict quality testing before they're used to create a like-new engine. Purchasing a remanufactured engine from a reliable source can save you thousands of dollars without sacrificing any of the quality. Remanufactured engines are built using only the best parts available. By the time they're done, they're just as good as a fresh-off-the-line engine from the manufacturer themselves. Both diesel and gas engines can be remanufactured, but gas engines are most common. This is due mainly to the fact that gas engines far outnumber diesel engines in general, and gas-powered vehicles are more likely to succumb to wear and tear and be sent into salvage yards than their diesel counterparts. Don't worry though, reman powertrain parts only use components that are in near mint condition. Airline Auto Parts has paired with the best reman partners around to ensure that each customer gets the highest-quality part possible. Order a reman engine from us and your vehicle will be back in top shape in no time at all!
If you're in the market for a remanufactured engine (diesel or gas), check out Airline Auto Parts. We have an ever-changing inventory, and we even place orders for you if we don't have what you're looking for. Each and every remanufactured engine comes standard with a 3-year/100k mile warranty so you can feel confident in your purchase. Call us at 281.448.2000 to discuss your reman needs, and explore our entire inventory at https://airlineautoparts.net/. We look forward to working with you!