Millions of pickup trucks are sold each year all across America. Pickups are popular for their power, versatility, and their storage capabilities. Given the huge number of pickups sold each year, you can imagine that there are just as many making their way into salvage yards. What many truck owners don't realize is that they can upgrade their truck without breaking the bank. Find yourself a reliable and established salvage yard like Airline Auto Parts, and you can deck out your truck for a fraction of the price. Here are some of the top upgrades we recommend based on the inventory we often have.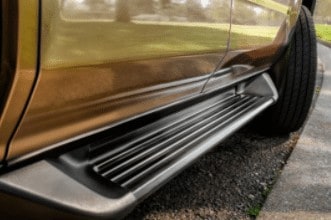 We all know that pickup trucks tend to be a bit taller than your average car. It can get tedious to have to hoist yourself into your truck every day, and it's even worse for shorter people, children, and dogs. Nerf bars or running boards are two excellent options to make that problem disappear. If you aren't familiar with them, they are bars or boards that act as a step below your doors. You can have them span the entire cab, place them only under certain doors, or even mix and match. Nerf bars and running boards both do the same thing; they're just shaped differently and have either step pads (Nerf Bars) or stepping surfaces that span the length (Running Boards). These must-have accessories can cost you hundreds or even thousands when you buy them new. If you shop at a salvage yard like Airline Auto Parts, you'll pay only a fraction of that. Look up your make and model to see if we have running boards or nerf bars in stock. We ship all over the US and offer a warranty on all parts. If we don't have what you're looking for now, check back often because our inventory is continuously updated as new parts come in and pass inspection.
Pickup trucks are excellent for offroading and heading down the untravelled trail. You can keep the adventures going longer if you're prepared for nighttime driving. Replace old and dull headlight lamps, or pick up some additional lights to mount on your pickup! Airline Auto Parts has headlight and taillight lamps as well as extra lighting options like fog lights, driving lights, and more. These specialty lights don't last long in our inventory, so be sure to check our website often if you're hunting some down. We carefully test every lamp and light that comes our way before we sell it. We know that proper lighting is crucial, especially for trucks that aren't living in the city all the time. If we see any level of wear and tear on our lights, they won't make the cut. We refurbish used auto parts to ensure they're in perfect working order so that you can feel confident when you shop for pickup truck upgrades.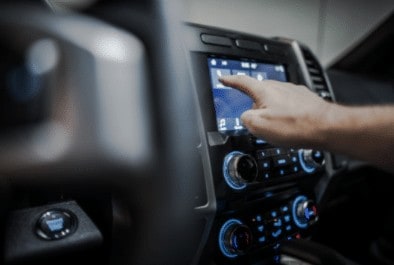 A truck is a big investment, and truck owners typically use their vehicle a lot. Because of this, many trucks have high-tech radios, stereos, or speakers when they find their way to us. If you're looking for a truck upgrade, consider changing up your sound system. You can purchase these parts from Airline Auto Parts or other salvage yards and install them yourself or head to your local shop. By shopping used or refurbished, you'll save $1000s. As you may have assumed, the awesome sound systems that come through our doors are very quickly bought. When you shop with us, you know that the part has met or exceeded our very high standards. We even offer a warranty on all parts so that you can purchase without fear. If we don't have what you're looking for in stock, we can order it for you or refer you to a partner yard. All of our partners care as much about quality as we do, and we would never send you anywhere that isn't reputable. You can get the radio or sound system you've been waiting for delivered in the mail, backed by a six-month warranty.
As we've already mentioned, many truck owners like to head off-road now and again. Uneven terrain, steep hills, and off-road debris can cause a lot of stress to your suspension system. There's no need to panic, though, because you can find all the suspension parts you need at Airline Auto Parts. Help your truck ride smoother on and off-road, give yourself some extra shock absorption, and ride a bit higher with lift or leveling kits. Many people believe that suspension parts from salvage yards are no good, but far more trucks and cars come to us in perfect working condition than you might guess. As always, the Airline Auto team inspects each vehicle that comes into our yard to find parts that are of good enough quality to resell. If a truck was driven in the city forever and didn't do too much rough driving, the suspension is often in great condition. Even if one area of the suspension system is broken, other parts can be salvaged. Why spend thousands at a shop to get brand new suspension when you can shop at a salvage yard for a fraction of the price? Plug in your vehicle make and model on https://airlineautoparts.net/ to see what suspension parts we have in stock. Don't forget that we can always order what you need or refer you to a partner yard!
The last truck upgrade we want to talk about are racks. Pickup trucks are designed to hold exponentially more than a car or even an SUV, but it's still not enough sometimes. Luggage racks, bike racks, ladder racks, and more show up on our doorstep far more frequently than you might think. With the exception of a worn-down paint job or a loose bar here and there, these truck racks are always more than qualified to be resold. Our team fixes any issues that we notice so that your used part looks fresh off the shelf. Truck racks are very expensive when purchased new and are hundreds of dollars cheaper from Airline Auto Parts. Buying used truck racks is a great idea for all truck owners, but particularly those who don't need the rack all the time. If you carry cargo once in a while, there's really no reason to splurge on new racks. You can get like-new racks that do the job without breaking the bank. Be sure to look up the correct make and model to find truck racks that fit perfectly. The good news is that every item from Airline Auto Parts has a 6-month warranty if anything goes awry.
These are five of the most common truck upgrades we see our customers make. That being said, there are countless other ways to spice up your pickup. You can always look for new parts as well, as some of them sell out of salvage yards as quickly as they come in! If you're a fan of saving money but still getting the best quality, always look up your desired part on Airline Auto Parts. We ship directly to you so you can focus on other things. Install your parts at home or take them to a mechanic you trust. We guarantee you'll love what you find! Shop today at https://airlineautoparts.net/.